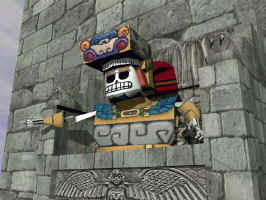 The Ninth Underworld Gatekeeper - when we arrived there, none of the slaves from Domino's coral mines was allowed to enter the Ninth Underworld because their Double-N-Tickets were stolen from them. By who? Hector LeMans!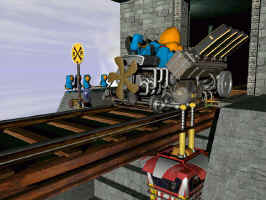 Poor Glottis ... as a demon created to drive, he suffered heavily from walking for several months. He almost died, but then Mayan mechanics built that vehicle - coffin rocket - which we used to get back to Rubacava, and speed returned Glottis back from the dead.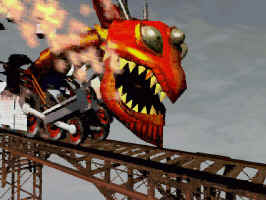 It is the Number Nine train, driving bad people to the Ninth Underworld - "bad" means they have Double-N-Tickets they didn't deserve, but bought them from Hector LeMans.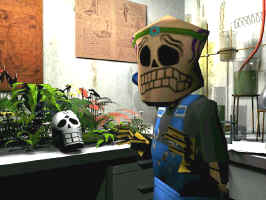 Code name: Florist. He produced ammo for sproutella guns and worked for (of course) Hector LeMans.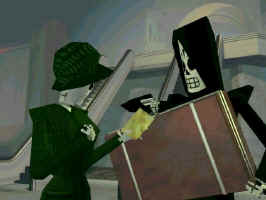 Meche got her Double-N-Ticket - we found a suitcase full of stolen tickets in Hector's office. When Meche was about to leave El Marrow, we were attacked at the train depot.
Olivia Ofrenda, taking me to Hector - I didn't know she works for him (and is his girlfriend) as she pretended to be a member of the LSA.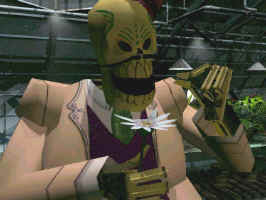 She loves me ... she loves me not ...
Hector LeMans himself, enjoying in his greenhouse. All the flowers in it (and on the hill greenhouse is built on) grew from the bodies Hector sprouted.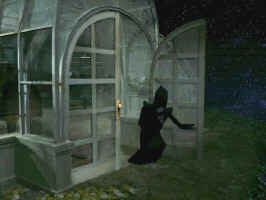 Hector tried to sprout me, but I was lucky he used ammo that should kill me in about hour or so. Luckily, I still had some liquid I got in Rubacava that helped me survive sprouting..
Hector under attack of sproutella ammo I shot into the water reservoir. At the end, all that was left of Hector was a bunch of flowers.
That's it ... Meche and me entered the Ninth Underworld; will we stay together? Glottis stayed on this side of the door; will we meet again?
Answers to this questions might be given if LucasArts Entertainment Company decides to continue Grim Fandango ...